A step above a souvenir
Keychains are cool, but why not commemorate your National Park trip with a souvenir you can fully enjoy day in and day out?
Better than a branding iron
Customize your trusty Rambler® in Brick Red – a color inspired by the iron-rich, Southwestern dirt on our boots, on our trucks, and in our blood.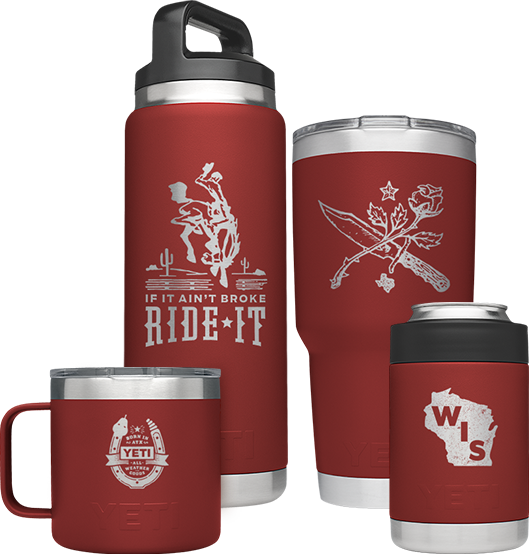 Know for sure it's yours
Take the guess work out of picking your own drink back up. Customize your Rambler® 16 oz. Stackable Pint with your name, a monogram, or a custom logo.
Custom to Your Company
Customized YETIs aren't just good for setting you apart. They can also show that your business means business. Send us your logo or design along with how many units you need and we'll get in touch with you.

Rambler Technology
YETI Ramblers are the advanced stainless steel personal drink coolers that are made to withstand anything and to keep your drink as cold (or hot) as science allows.
18/8 Stainless Steel
Made with kitchen-grade stainless steel, so they're puncture and rust-resistant.
Double-Wall Vacuum Insulation
Keeps cold drinks cold and hot drinks hot until the last sip.
Dishwasher Safe
Because no one needs more work to do.
No Sweat™ Design
Keeps fingers dry and unfrostbitten.
Boomer Technology
The double-wall, non-insulated Boomer™ Dog Bowl is designed to be as dependable and ready for adventure as man's best friend.
18/8 Stainless Steel
Puncture resistant, rust resistant, and tough enough to handle any dents and dings.
Food Safe
Perfect for kibble, water, and prime cuts, too.
Dishwasher Safe
Because you already clean up after them enough.
Bearfoot™ Non-Slip Ring
Won't budge — no matter how enthusiastically they eat or drink.
Designs That Can Survive Anything
Our advanced laser marking process is sure to make your design or logo just as resilient as your YETI. No scratching, no fading.
Learn about our process